Integrating analytics into our everyday decision-making
POSTED 27th February 2019
At Wellcom, our team at thelab (our US-based creative production agency) have been working to integrate analytics into the fabric of each business and creative decision that we make. Analysing data in the context of a project or task has become a key way for us to translate business goals into actionable creative briefs.
When starting an analytics project, we follow a standard process:

Define the goals of the project.

Are we looking to increase the size of our subscriber database? Drive consumers to a retail location? Increase ecommerce conversion rate? Raise average order value?





Look at configuration to understand the tools being used, how they are set up, and what data is being reported.

It's critical that the configuration unlocks insights into the drivers of project goals.



Update configuration to fill the gaps in the analytics being gathered and reported.


This encompasses site analytics, native social analytics, point-of-sale systems, voice of customer feedback, customer support tools, and survey data.



Dive right into existing data and perform an analytics audit.

What are the KPIs for the consumer behavior we are looking to drive? How are we performing? What areas can we improve?



Build out a creative brief that the broader UX, design, copy, development, and producer teams can wrap their heads around, leveraging this data as a reference point for creative ideation.
Through this data we seek insights that make our work smarter and more focused, to solve business challenges. Below are a few examples of how this has worked for our clients:


---
Drive to Purchase for Industry-leading Mattress Retailer


Business Goal: Drive conversion for an industry-leading mattress retailer without a user needing to hit a Product Detail Page (PDP).
Key Insight: Users were going directly from the homepage to the PDP and not adding to cart as they did not understand the full product lineup. We created an easy-to-use category product grid template that allowed a user to compare different products within a product lineup on a single page. From this page, the user was also able to add to the cart without going to a PDP.
Impact: We saw a 10-15% lift in add to carts for product grid site content. Additionally, now that users were interacting with product category filters, we were able to better understand how they thought and shop on a category-by-category basis. Finally, we set up self-service, templated funnel reports that help us and our clients monitor falloff from within a product category, landing page or key call to action.


Improving Conversion for Seasonal ecommerce


Business Goal: Improve ecommerce holiday sales for a high-end wine retailer.
Key Insight: We reviewed the checkout conversion funnel and noticed that the current platform required users to create an account prior to accepting payment, which caused significant drop off. We decided to create a guest checkout flow as a way for users to more easily convert.
Impact: Guest checkout generated a 67.5% revenue lift month over month and now makes up +40% of all site transactions.


Merging old with the new for a better reading experience


Business Goal: Increase site engagement for readers that are part of a young adult fiction community of readers and writers.
Key Insight: Certain content categories had low engagement, while others were receiving more click throughs. We recommended consolidating some of the individually tagged posts that had less traffic, but were still important for maintaining organic search volume for the site.
Impact: We consolidated blog navigation tags and increased adoption of the more frequently used tags. This helped to improve visibility for newly created content, while still keeping relevant archived content intact. As a result of these design and taxonomy updates, engagement increased 13.5% year over year.


---

In reality, driving results is a constant iterative test-and-learn process, as shown in the graphic below. Early on, we look for buy in from the teams and try and prioritise potential testing opportunities based on where we are in a project sprint and then we have a process for design, development and reporting to show the iterative and cumulative impact of our changes.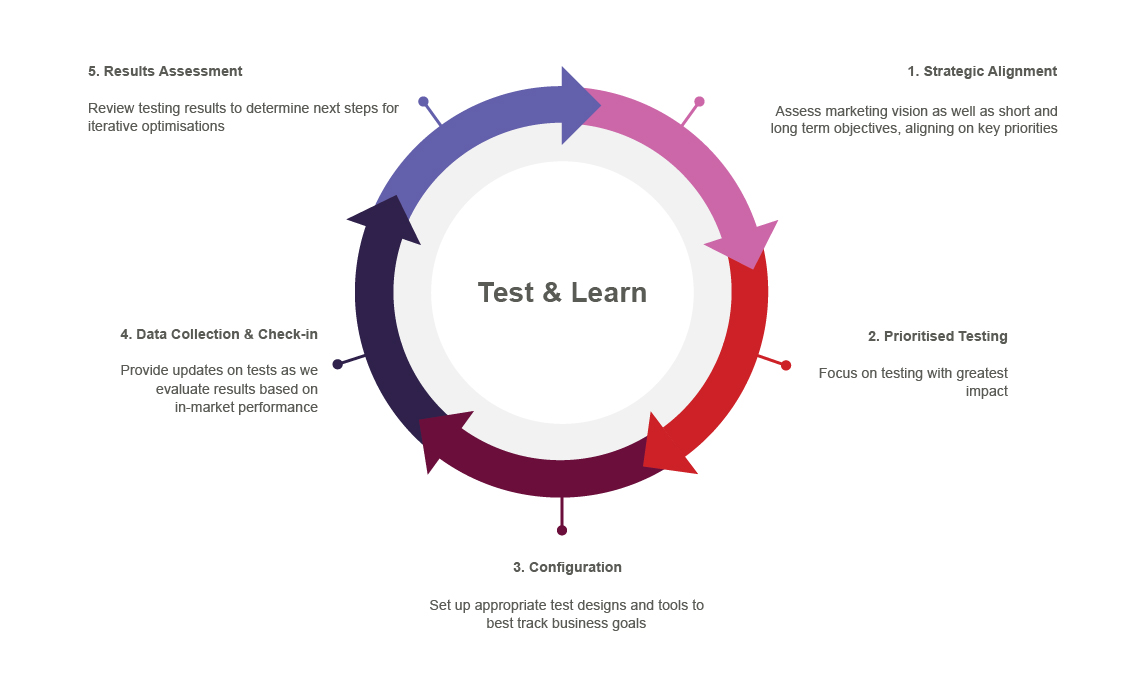 Looking ahead, we are recommending that clients take a personalised approach and are including dynamic creative optimisation tracks in our project road maps. As data becomes more accessible and marketers get smarter about how to leverage it to generate an edge in their day to day, doing this kind of work will require a different kind of client relationship, both from a structural perspective (how teams are staffed and how scopes of work are written) and how collaboration happens (the process and the workflow).
Using data has become a way for us to evaluate and improve results as part of the creative decision-making process. It has helped us to continue to build upon a framework as part of a creative brief, regardless of whether the objective is awareness, conversion, or campaign focused.
--
Authored by Peter Gaffney, Head of Analytics at thelab